Lohmann Rauscher : Juzo : epX : Medi : Bauerfeind
Patients love CircAid systems.
Response to CircAid systems has been overwhelmingly positive. In letter after letter, patients tell us we've given them their lives back, we've reduced or eliminated the pain, we've shown them how to take care of themselves.
They especially appreciate how easy it is to put on and remove CircAid systems over painful ulcers.
Unfortunately, venous insufficiency and lymphedema don't go away. So patients are taught how to control their diseases with a system and a routine that work both during and after initial treatment.

Patient-driven products.
Patients have always come first. We want what works best, not just what sells best.
That's why we have a constant, ongoing dialogue with patients, physicians and other medical professionals. In fact, some of our most successful products have resulted from their suggestions. For example, our Ready-Fit 2000™ Lower Leg system features a neoprene anchor, making the legging more comfortable and easier-to-use than ever.
Depending on physician recommendation, patients can use CircAid systems alone or in conjunction with other therapy, including compression hose, pneumatic compression pumps, medications and bandaging.
The clinical studies cited above prove that CircAid technology works. We will continue to devote our resources to research and product improvements. It's our goal to help people lead independent lives despite the disorders they may have.

Necessity is the mother of our invention.

Innovative CircAid® technology helps people get better faster.
And stay that way.


You may not stay up nights wondering why giraffes have venous pressures of more than 250 mm of mercury at their ankles - three times that of humans - and never suffer from lymphedema or venous disorders. But physiologists have. And they found the answer.



The secret is in the skin. Giraffe skin is non-elastic. It doesn't stretch. It cannot stretch to accommodate edema. So it isn't susceptible to problems like lymphedema and venous disease. Even though the animal may be on its feet 24 hours a day. At CircAid Medical Products, Inc., we apply the same principle to humans.

Proven by clinical studies.
Independently conducted clinical studies support our findings time after time. A Walter Reed Army Medical Center study found ulcers in CircAid patients healed up to four times faster than with conventional four-layer elastic bandaging. Another study presented at the 1996 American Venous Forum compared CircAid vs. compression stockings and found the CircAid garment to be superior in maintaining, and in some cases, reducing limb size and improving venous flow.

Non-elastic bands. Combining simplicity and science.
Sometimes new patients look at one of our systems and wonder how a series of nylon bands will help them feel better.
Well, those bands hold the key.

They're made of VELCRO® brand hook and loop fasteners. So they're adjustable. And patients can sustain proper levels of compression. Even when limb size changes or during physical activity.

The bands also supply gradient counterpressure. Which means better circulation.

In addition, they're comfortable. So patients like wearing CircAid products.
When we support human tissue with a CircAid® system of non-elastic, adjustable bands of VELCRO® brand hook and loop fasteners, we're able to provide the same sustained compression the giraffe comes by naturally.
That's the core technology behind every CircAid system.
But don't be deceived. It only sounds simple.

CircAid systems are, in fact, highly engineered and offer a unique combination of physics and physiology. Years of development - and experience with leading physicians and thousands of patients - have proven CircAid technology works better than bandaging or prescribed elastic compression. It's much more efficient in moving fluids out of and supplying nutrition to the affected areas.
After raising three children and suffering from lymphedema for years, Hertha Shaw had to rest and elevate her leg every few hours. Despite seeking help from many vascular specialists, Hertha still found her condition worsening and her job in jeopardy.

Frank Shaw, her husband and an engineer, was also a successful inventor. When he saw the pain his wife was in, he knew he had to find a solution.

The result was the first patented CircAid legging (short for circulation aid). It literally put his wife back on her feet to resume a normal, active life. This core technology would evolve into today's CircAid Medical Products, Inc., run by daughter Sandra Shaw, with over 20 different products and many more to come.

Juxta-Fit™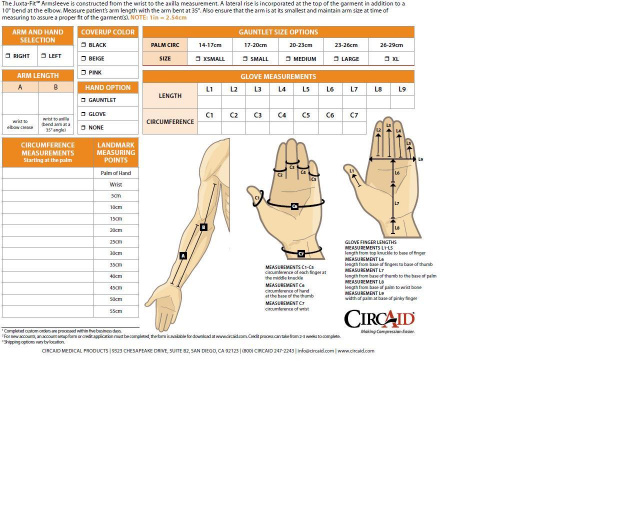 Juxta-Lite™